March 10th, 2020
If you've ever had dental impressions taken for your diagnostic records you know how much fun it is to have a gooey mouthful of impression material. ?
Well we have good news! We are now taking a digital scan instead of impressions for diagnostic records on all patients. Our Orthodontic Clinicians, Lisa, Diane and Reba and our Treatment Coordinator Traci have all trained and become masters with our new ITero® Digital Scanner.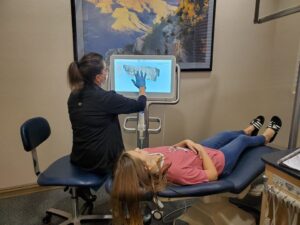 What is an iTero® Digital Scanner?
"Intraoral scanners from iTero® scan the mouths of patients, capturing images to create three-dimensional dental images in minutes."* That means instead of using impression material that sits on the teeth for up to 2 minutes and pouring the impression up to make a plaster model of your teeth, we will simply take a digital scan which will generally take less than 5 minutes and you will immediately be able to see 3-D images of your teeth, gums and bite.
Why would we need a Digital Scan?
Orthodontists must have an accurate representation of what your teeth look like before beginning treatment in order to keep it as a record and plan your orthodontic treatment. "Digital Scanners help orthodontists diagnose orthodontic problems and develop the best treatment plans."
How does a Digital Scanner Work?
"Intraoral scanners feature a small wand," (much smaller than cumbersome wands associated with the first scanners from 2007) which our clinicians manipulate around a patient's mouth. In the newest version which we have now, "the wand captures thousands of frames per second which are pieced together to create a three-dimensional visualization of the patient's mouth. Intraoral scanners also have screens which display the digital dental images as they're captured in real time."*
What is the Benefit to the Patient Besides no Gooey Impressions?
"Orthodontists can scan their patients with an iTero® intraoral scanner, then show them how their Invisalign® or other Orthodontic treatment will look. This technology improves the patient experience because patients can know what to expect and feel more confident in their diagnosis and treatment plan."* Often patients had no idea what their teeth and bite actually looked like prior to seeing their scan on the screen.
The best news for you is that your scan, along with your initial consultation, is completely Free. We also have interest free in office financing available for all of our treatment options.
Give us a call today at 520-531-1496 or click 'Contact Us' and 'Appointment Request'  on our website.  We can't wait to meet you!
Linaker Orthodontics - Where Tucson Comes To Smile
* https://www.123dentist.com/itero-intraoral-digital-scanners-everything-you-need-to-know/