April 10th, 2017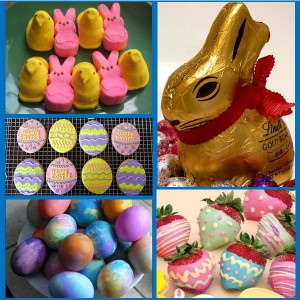 Easter is always a special time of year. It's a holiday that all ages enjoy together. One thing that is symbolic with Easter is the eye-appealing baskets that are usually chock-full of sweets, treats, and goodies galore. But for the person who has braces, there are some treats that should be left out of the Easter basket. Some of the treats you put into the baskets can lead to discomfort, or even a trip to the orthodontist. The good news is that steering clear of those treats is not difficult, and your child will still end up with a really great Easter basket!
Tasty Treats
There are some treats that are off limits when it comes to wearing braces, and you will want to avoid those for sure. When you put the treats into the Easter basket just think for a moment if they are foods that are particularly hard or sticky. This means you will want to bypass the jelly beans, which may be a tradition in the baskets, but can cause problems with braces. Sticky or chewy foods can be especially difficult for people who have braces. When it comes to choosing what will go in the basket, here are a few safe options to consider:
Chocolate
Most kids are going to want some chocolate in their Easter basket. Heck, most adults want some, too! Be sure to avoid any chocolates that are hard or may be filled with things like chewy caramel. Opt for those chocolates that are soft and will melt in the mouth. There are usually small balls of chocolate available every Easter. Other options include Hershey kisses and peanut butter cups. Another tip to keep in mind about selecting chocolate is that dark chocolate is a healthier option. Dark chocolate, which comes in many varieties, contains riboflavin and antioxidants that provide health benefits for the teeth and gums.
Fruit
Most kids love fruit, so putting some in their Easter basket should be a great treat. Think about those fruits that are soft and will make an ideal addition to the basket, such as bananas, strawberries, or blueberries. All of these are soft, easy to eat when you have braces, and they are healthy. In addition to containing vitamins, strawberries are also an astringent and act as a natural tooth whitener.
Marshmallows
While marshmallows can be a little sticky, they are also soft and shouldn't be a problem because they dissolve in water. Putting a few of the traditional marshmallow Peeps in the Easter basket is fine for your kids, but it would be wise to have them brush their teeth after eating them.
Hard-boiled eggs
Because this traditional Easter food is so soft, it should not pose a problem for those with braces. Decorated hardboiled eggs will make a nice addition to any basket.
Cookies
Pop a few iced sugar cookies into that basket and your kids will love you even more. Whether you make them at home yourself or you buy some from the store, this will be a tasty treat that won't be a pain. Brownies No kids can resist brownies. You can find some in stores or bakeries that are decorated for Easter, or you can make them yourself. If you make them yourself consider getting creative with making them healthier. There are plenty of recipes online for turning ordinary brownies into ones made with black beans. While they may sound odd, they have become popular and the kids seem to like them, too.
Other foods
There are a lot of foods that you can add to your child's Easter basket, keeping their age in mind of course. Think of things like bottled smoothies, pudding cups, and grapes. There are snack packs of crackers, chips, and graham crackers. You can even find a few varieties of soft cereal bars, such as those by Kashi, Udi's, or Nutri-Grain that are perfectly braces-safe.
Of course you can always opt for non-food items in your Easter baskets as well, which often go over even better that food treats.
Happy Easter and Happy Basket Stuffing from our Family to Yours!
(Adapted from Dustin S Burleson, DDS)